Australian Parallel Flange Channels
Welcome to our Australian Parallel Flange Channels free CAD downloads page! Here you'll find information for all Parallel Flange Channel steel sections described in Onesteel's 7th edition structural steel products catalogue. Sort the table below according to any property and select a CAD file to download using the reference links in the left-most column. All CAD data is in AutoCAD 2000 format.
You can also buy and download all our content, in one easy .zip file. Click here to visit our Shop!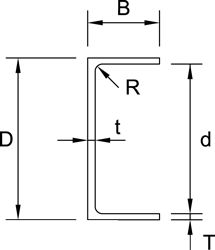 Section Reference
Mass per Metre
Depth of Section
Flange Width
Flange Thickness
Web Thickness
Root Radius
Depth between Flanges
kg/m
D
mm
B
mm
T
mm
t
mm
R
mm
d
mm
380PFC55.2
55.2
380
100
17.5
10
14
345
300PFC40.1
40.1
300
90
16
8
14
268
250PFC35.5
35.5
250
90
15
8
12
220
230PFC25.1
25.1
230
75
12
6.5
12
206
200PFC22.9
22.9
200
75
12
6
12
176
180PFC20.9
20.9
180
75
11
6
12
158
150PFC17.7
17.7
150
75
9.5
6
10
131
125PFC11.9
11.9
125
65
7.5
4.7
8
110
100PFC8.33
8.33
100
50
6.7
4.2
8
86.6
75PFC5.92
5.92
75
40
6.1
3.8
8
62.8